| | |
| --- | --- |
| Cole Burton | |
| Dr. Cole Burton is an Assistant Professor in the Department of Forest Resources Management, Canada Research Chair (Tier 2) in Terrestrial Mammal Conservation, and the Principal Investigator of the WildCo Lab. Cole has worked collaboratively with governments, industries, ENGOs, and academics in Canada and around the world. He has an M.Sc. in Zoology from UBC and a Ph.D. in Environmental Science, Policy and Management from the University of California, Berkeley. Cole's research is motivated by the challenge of human-wildlife coexistence on a crowded planet and he specializes in studying terrestrial mammal responses to changing environments using innovative methods such as camera traps and hierarchical modelling. | |
| | |
| --- | --- |
| Jacqui Sunderland-Groves | |
| Jacqui Sunderland-Groves joined the Department of Forest Resources Management in April 2018 as a Research Scientist. Holding an MPhil. in Conservation Biology from the University of Sussex, Jacqui has worked in West-Central Africa and Asia since 1995, specializing in great ape ecology and conservation related research, reintroduction and management of complex conservation programs. A significant part of Jacqui's research has focused on the distribution, ecology and conservation of Cross River gorillas in Cameroon, where she established a long-term research and conservation project. More recently her work extended to Indonesia and the reintroduction of over 330 wild Bornean orangutans in Kalimantan. Her research interests focus on great ape conservation challenges and seeking lasting solutions to abate those. | |
STUDENTS
Cheng Chen
Biodiversity conservation can no longer focus only on preserving and restoring ecosystems of the past. Because humans are now a major geological and environmental force as important as natural forces of the Earth, we can no longer treat natural systems as separate from human systems. My current research interest is to understand how human disturbance and conservation implements would affect large mammal population and community dynamics, including the ecology and evolution of species interactions. I received my M.Sc. in wildlife conservation from University of British Columbia (thesis: Factors affecting the efficacy of biodiversity conservation in tropical protected areas: a case study in Xishuangbanna, southwestern China) and a B.Sc. from Nanjing Agricultural University, China.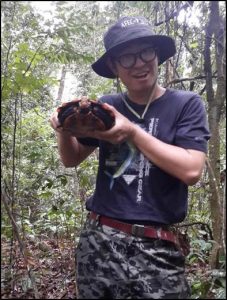 Cindy Hurtado
Cindy joined the lab as a PhD student in September 2017. Her research interests are in the areas of species distribution, landscape ecology, and mammal conservation. Cindy has worked on several projects in Peru that include small and large mammal monitoring with trapping techniques as well as non-invasive methods (camera trapping, scat collection, track plates). She has also worked in mammal conservation projects in Peru and Argentina, specifically with carnivores in the dry forest ecosystem and with reintroduction of collared peccaries in the Atlantic forest. Cindy obtained her Bachelor degree in Peru and a Masters Degree from Towson University, USA.
Francis Aurich Rodriguez
My research interests focus on the ecology and conservation of large mammals, particularly Andean bears in northern Peru. I have been involved in the study of this species for the last 5 years, working with the Spectacled Bear Conservation Society-Peru. Andean bears require large, intact, and interconnected habitats, however, in recent years due to anthropogenic disturbances, human and bear conflicts have risen in remote and rural communities. I will therefore seek to answer research questions that help mitigate human and bear conflict. Furthermore, I wish to collect reliable data that will aid in our understanding of the ecological needs of Andean bears, such as temporal and spatial habitat use and bear-cattle coexistence. These data are vital to guide wildlife management and conservation.
Joanna van Bommel
Joanna is a MSc student who joined the WildCo lab in September 2017. She graduated with a BSc Hons. in Environmental Biology from the University of Saskatchewan, studying the behavioural ecology of feral horse bands on Sable Island, Nova Scotia. Prior to that, Joanna spent a summer as an intern at the South African Shark Conservancy researching endemic shyshark feeding behaviour and conversion efficiency. Joanna is now looking to study areas of human/mammalian carnivore overlap in the Greater Victoria Area (southern Vancouver Island). Her project will examine species distribution and relative abundance to gain an understanding of where conflict may occur, and devise solutions for the coexistence of livestock and predators.
Caroline Seip
Caroline joined the lab as an MSc student in January 2018. Her research interests include using non-invasive methods to understand the distribution, ecology, and interactions of terrestrial mammals to inform conservation decisions. She is currently employed as a caribou recovery biologist for the Government of Alberta, from which her Masters project stems. Caroline's project uses camera traps to monitor the effects of caribou management activities on wildlife in west-central Alberta. Prior to her employment with the Government of Alberta, Caroline graduated with a BSc Hons. in Wildlife and Fisheries from the University of Northern British Columbia where she used camera traps to study habitat use of marten in a harvested landscape.
Aisha Uduman
Broadly, my research interests include using science to inform ecosystem conservation, resource management and to identify and promote practical methods to foster greater human-wildlife coexistence in increasingly shared landscapes. My MSc research looks at the expanding dairy industry in Sri Lanka, and explores its effects on a) forest cover and habitat degradation, b) Sri Lankan leopard prey dynamics and resource availability and c) finding potential methods of sustainable cattle husbandry which act to reduce instances of leopard-livestock conflict. The research outcomes can help shed light on the methods, techniques and considerations to employ when facing the inevitable dilemma of how to reduce carnivore-livestock conflicts within shared landscapes. Economic development and poverty alleviation are essential, but they must allow for coexistence with species (e.g. leopard) that compete with humans for habitat and potential prey (e.g. cattle).
Alexia Constantinou
Alexia joined the lab in September 2017 to work on her undergraduate thesis with Dr. Burton. Her thesis focuses on ungulate abundances in clear cuts and second growth forests at John Prince Research Forest in Fort St. James, BC. She is also working with Dr. Suzanne Simard and Dr. Burton on a project that focuses on moose abundance in different harvest retentions across BC's interior. Alexia spent a summer working for Metsahallitus in northern Finland as a forestry intern, exploring different ecologically sensitive areas (where she also ran into moose). She is excited to learn more about wildlife camera trapping and to expand her knowledge of how wildlife and silviculture are linked. Alexia will be starting her MSc with WildCo in September 2018.
Michael Procko
Michael is a MSc student who joined WildCo in the summer of 2019. Originally from Colorado, he graduated from the University of Colorado at Boulder with a Bachelor's in Ecology and Evolutionary Biology (magna cum laude) and a minor in Philosophy. Michael's undergraduate research focused primarily on quantitative conservation biology, studying apex carnivore population fluctuations via population viability analyses. His research history also includes assisting on landscape ecology studies focused on post-fire regeneration in mixed-conifer forests throughout the Blue Mountains of the Pacific Northwest. Michael is now pursuing the study of mammal community dynamics across differing land-use categorizations. 
Taylor Justason
Taylor joined the lab in September 2018 working as a part-time research assistant, helping investigate using wildlife cameras to monitor climate through phenology. Since January 2019 he has been employed as camera trap researcher through the university's co-op programme, furthering the establishment of Dr. Burton's WildCAM project and performing a literature review of camera trapping best practices over the winter and now working to help design and deploy camera grids in several provincial parks. His prior research experience includes studying a variety of species at risk on the Sunshine Coast for a local NGO, including northern goshawks, western painted turtles, western toads, and multiple species of swallows, waterfowl, and bats.
Mitch Fennell
Mitch is an NSERC summer research assistant in the lab. Originally from the Rocky Mountains of Alberta, he graduated in May 2019 from UBC with a Bachelor's in Biology (with distinction). He originally joined WildCo in September 2018 as a directed studies student, developing models for predicting differential predation by wolves based on remotely sensed landscape attributes, in collaboration with Banff National Park. His past experience includes working on a bison reintroduction project, maintaining large camera networks, and managing human-wildlife conflict in Banff National Park.  Mitch is currently assisting in the deployment of a pilot network of remote cameras across BC Parks.
ALUMNI
Joanna Burgar
Dr. Joanna Burgar joined the lab as a postdoctoral researcher in January 2017. Joanna specializes in wildlife and restoration ecology; her main interest area is wildlife interactions across human influenced landscapes, particularly the use of applied ecology and adaptive management to conserve biodiversity. Her research examines the interconnectedness of species interactions and how shifts in species abundance and community composition vary across landscapes. Joanna received a Ph.D. in Wildlife Ecology from Murdoch University, Australia, and M.Sc. in Biodiversity, Conservation and Management from Oxford University, UK. Joanna recently spent two years working as a Wildlife Biologist for the Government of Alberta, Lower Athabasca Region. Her current research estimates the density of unmarked mammal species using advanced spatial capture-recapture models.
Erin Tattersall
My research interests focus on mammal community ecology and responses to anthropogenic disturbances. My current research project uses camera traps to monitor large boreal mammals in a seismic line network in northeastern Alberta. Energy extraction in this region has a significant impact on mammal population dynamics, altering species distributions and land use. This is of particular concern for threatened woodland caribou herds. My project examines how caribou predators interact within a seismic line network, as well as how seismic line restoration efforts affect mammal community interactions. My past research experience includes completing an Honor's thesis at McMaster University, studying wound healing in the wing membranes of captive big brown bats.
Dacyn Holinda
I am a fourth year Honours Ecology student who joined the lab in May 2017. My primary research interests lie in the field of conservational ecology, specifically in the exploration of the anthropogenic impacts on mammalian ecosystems. My current thesis project involves studying the impact that bait and habitat can have on influencing the detectability of camera traps. Baiting camera traps is a common technique used by researchers in the hopes of increasing detection of focal species. The impacts of baited vs non-baited camera traps on detectability is not well known. A better understanding of how bait, along with habitat changes across camera sites, influences detection rates will help future research methodology and the protection of conservational species of interest.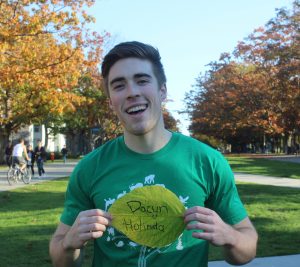 Robin Glover
Robin is currently in her 2nd year of her undergrad at UBC. She is majoring in biology and has an interest in studying wildlife and environmental conservation. Over the 2018 summer, Robin studied coyote behaviour in the St. Clair lab at the University of Alberta. She is excited to be continuing this project under Dr. Burton as a Biol 448 research course. Beginning in September 2018, she will be using a coyote reporting database to learn more about coyote behaviour as well as to develop an improved survey tool to extract information from future reports.
Meghna Bandyopadhyay
I joined the WildCo lab as visiting student in June, 2018. I pursued the Bachelor degree in Chemistry and M.Sc. in Environmental Science from Calcutta University.  Currently I am working as a PhD scholar at the Forest Research Institute with Wildlife Institute of India. My study focuses on the community dynamics of small carnivores along the elevation gradient. It's interesting to study the response of these elusive species to rapidly changing climatic behaviour coupled with increasing human disturbance in a harsh and complex landscape. My study site is the Great Himalayan National Park, Himachal Pradesh which is also a UNESCO World Heritage Site. Having interest in large carnivores, my Master's dissertation was based on leopard density estimation in a semi-arid landscape.